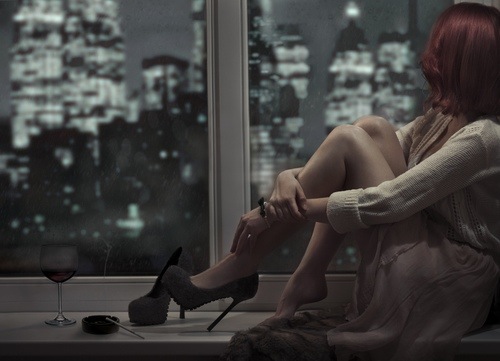 Friday Night Write – St. Theresa
Julia sat on the windowsill in Carlo's bedroom, gazing at the sparkling night skyline of New York City.
Carlo was asleep in his bed, unaware that she was there, or even alive.
He had fallen for the same rouse his former boss had. But that was the whole point, wasn't it? Make them think she was dead, Carlo gets free from his life as an assassin, and everyone goes their merry way.
She had help from a man known as G. G had a professional interest in Carlo, and Julia needed G's help. She assured G that Carlo would do anything to get revenge once she was "gone," and G would have no problem recruiting him. And so their little alliance was formed. G supplied the drugs to slow her heart, the bullet proof vest, even fake blood to make it look like she had been shot. G could not understand why she would risk them shooting her in the head instead if the chest. But that's love; sometimes you have to risk everything for that one person who becomes your entire world.
G paid off the coroner to lie on her death certificate, and then gathered her unconscious body before they buried her casket. As long as no one dug up her empty grave, everything would be fine.
Julia had to wait until she knew it was safe before confronting Carlo. She couldn't do it yet because her "killers" might still be watching him. But she could not bear to see him in pain any longer. She had to at least let him know she was alive. That was why she visited him the other night, and why she was here now.
But the moon was high in the sky and she would need to leave soon. The thought sunk daggers in her chest. Reluctantly rising from her post by the window, she walked to his bed and watched her love sleeping peacefully. She desperately longed to hold him again–if just for a moment.
"Soon," she quietly promised him–and herself.
Julia turned to his nightstand and re-read the letter he had so eloquently penned.
"I love you too," she whispered as she wrote those eternal words at the bottom of the page.
~
This is my entry into the Friday Night Write weekly challenge at Sweet Banana Ink.
The Challenge:
1 Song (this week's song is St. Theresa by Joan Osborne)
60 Hours (Friday @ noon to Sunday @ midnight EST)
500 Words
This is part of a series I'm writing. You can read the rest of Carlo's Story here.
https://christinakrieger.com/wp-content/uploads/2012/09/20120903-114211.jpg
361
500
christinakrieger
https://christinakrieger.com/wp-content/uploads/2015/02/ck_logo_transparent1.png
christinakrieger
2012-09-03 10:42:38
2012-09-03 10:42:38
Friday Night Write – St. Theresa